Earn discounts on BookRags products
BookRags is an academic and research website specializing in developing literature study guides and lesson plans for students and teachers. Our members have access to the latest literary works as well as the classics.
At BookRags, we strive to make your literary experience fun. Tying literature back to current events and personal experiences is a great way to understand and appreciate it…and make it enjoyable! With this in mind, we're proud to introduce Argos, Odysseus's faithful dog from Homer's The Odyssey.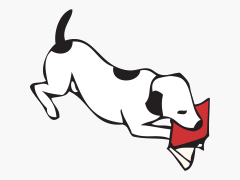 Take a picture of Argos doing something fun
Post your picture of Argos on our Facebook page
Earn discounts on BookRags products!
Just as Odysseus was an adventurer, Argos also loves to travel. You can take him hiking, fishing, to baseball games, or even spend a quiet evening reading with Argos - he makes a great bookmark!
Where will Argos go next?